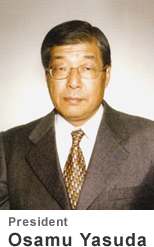 Since being established in 1913, we have been accumulating trust, experience, and know-how, and together we can use these to face any challenge.
Following the recent difficulties with the economy, and the Hanshin Awaji earthquake disaster, we still continue to move forward.
We will continue to work hard to really understand our clients' needs, and with flexibility, reliability,  and assurance, find the best solution for them.
We guarantee high quality, fast delivery, low cost, and high flexibility for your satisfaction.
We look forward to hearing from you.